The rest of this blog is in Hungarian language.
You can find the English version here
Ebben az oktatóvideóban egy félösszeadó áramkör létrehozását és szimulációját mutatjuk be a TINACloud segítségével.
Félösszeadó (half adder) áramkörnek nevezzük azt a kapcsolást, amely két, egy bites bináris számot tud összeadni. A félösszeadónak két bemenete van, amit általában A-nak és B-nek neveznek, illetve két kimenete az Összeg (Sum)és az Átvitel (Carry).
Először létrehozzuk a félösszeadó kapcsolási rajzát.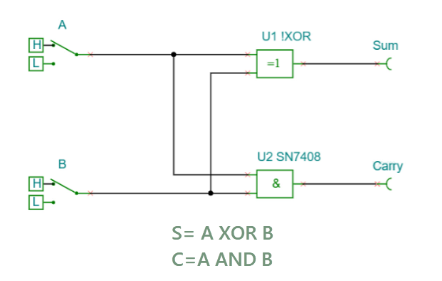 A Félösszeadót leíró logikai kifejezések: 
S= A XOR B ; C=A AND B, ahol A és B a bemeneteket, S és C a Sum és Carry a kimeneteket jelölő logikai változók.
Ezek alapján az Sum (összeg) előállításához KIZÁRÓ-VAGY kaput míg az Carry (átvitel) előállításához ÉS kaput használunk.
­A Bemeneteket High-Low alternatív kapcsolók segítségével állítjuk elő.
A High-Low alternatív kapcsoló olyan speciális komponens, amely a kapcsoló állásától függően Logikai Magas (High) vagy Logikai Alacsony (Low) szintet szolgáltat.
A kapcsolón a szinteket H, illetve L jelöli.
Az áramkörünk tesztelése a DIG, Interaktív Digitális Analízis gomb megnyomásával történik.
Az Interaktív teszt során az alacsony logikai szintet kék, a magas logikai szintet piros színű markerek jelzik a csatlakozási pontokon.
A kapcsolók állítgatásával megvizsgáljuk az összes lehetséges bemeneti kombinációt.
Ezt követően az alternatív kapcsolókat egy-egy Digitális jelgenerátorral helyettesítjük, majd a Digitális Analízis segítségével teszteljük áramkörünket .
Az összes jelkombináció generálásához 1s időtartamon először beállítjuk a PS1 Digitális Jelgenerátor értékét magas (H) logikai szintre 0.2s és 0.6s között.
Ezt követően a PS2 Digitális Jelgenerátor értékét állítjuk be 0.4s és 0.8s között magas (H) értékűre.
A diagram felrajzolásánál lehetőség van a sorrendiség meghatározására is a diagramon. Ehhez a nevek után egy kettőspontot kell tennünk, majd a kívánt sorszámot feltüntetni.
A Digitális Analízis futtatását, melynek idejét 1 s-ra állítjuk be, az Analízis menüből érhetjük el.
Amint az várható volt, a kapott diagramban minden jel külön, és a megadott sorrenben szerepel.
Az eredmény összevethető, és megegyezik a képernyőn látható Félösszeadó igazságtáblázattal.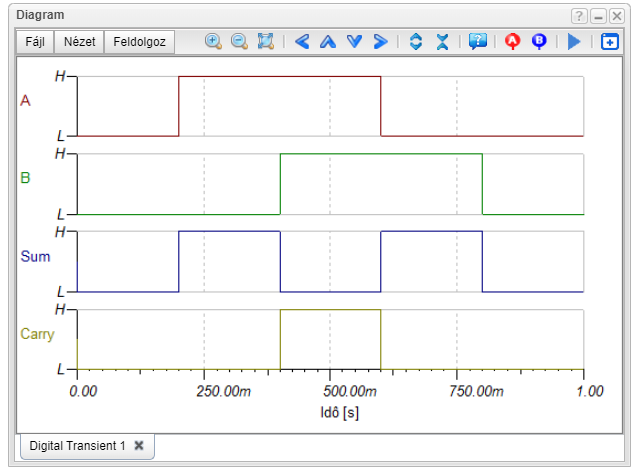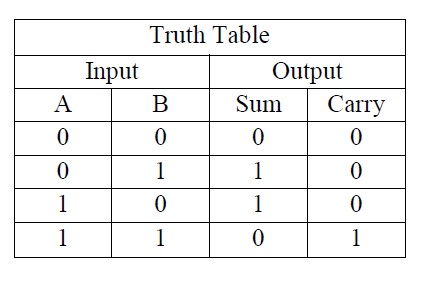 Nézze meg videónkat, mely ide kattintva érhető el.
A következő weboldalakon érhet el minket:
Youtube elérhetőségünk: https://www.youtube.com/user/TinaDesignSuite