Reviews & Opinions
Reviews & Opinions
Jump to TINA Main Page & General Information
Reviews and Papers:
By Graham Prophet
EE Times Europe
October 31, 2016
by Rahul Prakash
Texas Instruments Analog Applications Journal
Q4 2014, pp. 7-10
Simulation shows how real op amps can drive capacitive loads (https://www.edn.com/design/analog/4412899/Simulation-shows-how-real-op-amps-can-drive-capacitive-loads)
By Mark Fortunato, Maxim Integrated
April 28, 2013
by Paul H. Riley
March, 2013
By Prof. Dr. Dogan Ibrahim, 2nd World Conference on Information Technology, 2012
By Prof. Dr. Dogan Ibrahim, ELECO 2011 7th International Conference on Electrical and Electronics
By Prof. Dr. Dogan Ibrahim
April, 2011

Free program offers analog circuit simulation and analysis
By Jordan Marshall, Staff Writer — , 6/8/2005
Texas Instruments (www.ti.com) has released TINA-TI, a Windows-based software circuit program for designing, simulating, and analyzing analog circuits.
The free software is a complimentary version of TINA PRO, a more robust package from DesignSoft, an engineering and educational software developer.
TINA-TI provides engineers with a better understanding of how various products, such as power, logarithmic, and comparator amplifiers, are going to behave in a circuit, said Bruce Trump, TI strategic-development manager. The tool includes a library of macromodels for precision and high-speed amplifiers.
"Customers will be able to get started efficiently and easily with material we give away [in this program] and learn a lot about certain circuits and how devices perform in them," Trump said.
The tool, which is based on a Spice simulation engine and features an intuitive schematic-entry and capture screen, offers dc-, ac-, transient-, Fourier-, and noise-analysis options. It also features virtual instruments including a function generator, a multimeter, an oscilloscope, an X-Y recorder, and a signal analyzer.
TINA-TI will appeal to engineers because it helps them have a greater understanding of how circuits will work, Trump added. "[Engineers] can learn more about circuit operation and ways to optimize circuits quickly and efficiently," he said.
The TINA-TI tool, a 20-Mbyte download, is available free at https://www.ti.com/tina-ti. The tool can simulate up to two IC macromodels. The full-featured version of TINA PRO, which offers more options and supports unlimited circuit size, is available from DesignSoft at https://www.tina.com/, starting at $360.
EVERYDAY PRACTICAL ELECTRONICS 2000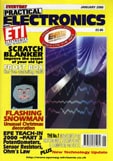 "IN CONCLUSION" Tina Pro is packed with features, simple to use and represents really good value. So, if you are thinking of moving up to a Windows Spice package (or planning to upgrade your current Spice software) you should take a serious look at DesignSoft's latest offering – it can be highly recommended! Mike Tooley " TINA PRO review"
ELECTRONICS WORLD 1999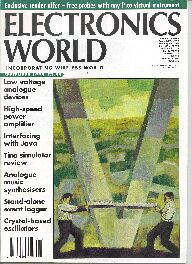 " In simulation section, the range and scope of the basic analysis offered in Tina Proare excellent……", "For engineer and educationalist alike, Tina is a good value for money."
Rod Cooper " The route to simulation III"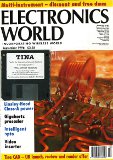 IN SUMMARY "Overall TINA is an excellent package versatile, value for money and easy to use." Clive Ousbey "Design lab bytes" Electronics World, September 1996, pp. 663-665